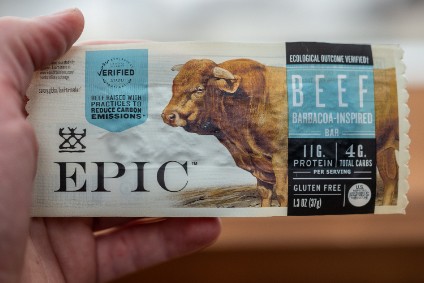 Epic uses the Seal product to highlight regenerative agriculture, which the brand says is helping to improve biodiversity
Biodiversity loss may finally get something like the attention that the severity of its consequences demands. Ben Cooper explores how food companies can engage with consumers on the subject and the degree to which consumers are likely to engage.
As crucial as this year is undoubtedly for the Paris Climate Agreement, 2021 must be the year in which the still neglected problem of biodiversity loss receives the attention it deserves.
In the next few years, tackling biodiversity loss could become a top sustainability priority for food companies, equating to reducing carbon emissions and water stewardship. The practical challenges this poses for food companies in their agricultural supply chains are daunting enough, but the need to include biodiversity in their dialogues with consumers would pose additional challenges for food brands.
It's hard to overstate how exposed large food manufacturers are to biodiversity loss. Agriculture accounts for around 11% of global greenhouse gas emissions. On this basis, food companies are under increasing pressure to reduce the carbon footprint of their agricultural supply chains. The intensification of agriculture and the globalization of food production have been consistently identified as the main cause of biodiversity loss worldwide, particularly in studies such as the WWF's biennial Living Planet report.
According to WWF, wildlife populations have declined by almost 70% over the past 50 years. "What many people may not realize," says Sarah Wakefield, Food Transformation Director at WWF-UK, "is that the biggest reason for this shocking decline is the global food system, the combination of what we eat and how we produce it and how it reaches our plates. "
The Global Assessment Report 2019 on Biodiversity and Ecosystem Services published by the United Nations Intergovernmental Science Policy Platform on Biodiversity and Ecosystem Services (IPBES) predicts that around 1 million species of plants and animals will be threatened with extinction over the next few decades of human activity.
A name you can trust
Thankfully, WWF is more than a broker of hard truths about the food industry's impact on biodiversity. It stands ready to work with industry to address sustainability challenges and does so in relation to biodiversity loss.
"The WWF is working with the food industry to find solutions to this systemic problem," says Wakefield. She works with major food manufacturers and retailers to "protect and restore nature in their food production chains," she sees the partnership as a means of promoting consumer interest in more sustainable food choices. "NGOs like us and the food industry cannot address this problem without consumer buy-in. So it is important that we educate consumers about the important role they play in these issues."
The latest food company to partner with WWF is European frozen food company Nomad Foods. Their initiative, unveiled last month, aims to find agricultural solutions to the "triple challenge" of feeding a growing world population, managing the climate crisis and reversing biodiversity loss. The WWF will support consumer commitment to sustainability at Nomad.
Ine Lubbers, Nomad's director of marketing for vegetables in the European category, says the company and WWF are working on consumer information and awareness campaigns around "our key message to protect bees, butterflies and plant species".
On-pack communication via the partnership with WWF will be launched first for the Iglo brand in Belgium and Portugal, then for the Findus brand in Spain, followed by Birds Eye in the UK in June.
At the farm level, two initial projects focus on biodiversity and the promotion of pollinator populations, as well as ways in which "nature positive" agricultural approaches can increase productivity.
WWF was also an external partner of Unilever's own Knorr brand for the Future 50 Foods concept launched in 2019. The program has a strong component of protecting biodiversity as the 50 ingredients featured are selected on the basis of nutritional value and environmental impact and, consequently, include some that are little known or used.
"Consuming, cultivating and planting the same food over and over again poses a threat to food security"
"Through our products, promotions and programs, Knorr plans to make these 50 foods more accessible to people around the world," said Rorr Redmond, global vice president of Knorr. "Consuming, farming, and growing the same food consistently pose a threat to food security, making our food system less resilient to pests or the effects of climate change."
Growing consumer awareness
The extent to which companies incorporate biodiversity into consumer communications depends to a large extent on their expectations, how aware and concerned consumers are. Even if mainstream consumer awareness is relatively limited when compared to issues like carbon, water and plastic, their understanding of biodiversity is increasing.
Annual consumer surveys conducted by the Dutch trade organization Union for Ethical BioTrade (UEBT) between 2009 and 2020 on biodiversity show that consumer awareness has increased in Europe and the USA.
In 2020, 78% of the roughly 6,000 respondents in Brazil, France, Germany, Great Britain and the USA said they had heard of biodiversity, compared with 67% in 2010. The largest increases were recorded in Germany (+32 percentage points to 61%). Great Britain (+20 to 79%) and USA (+16 to 64%). Consumer awareness of biodiversity is significantly higher in Latin America and Asia than in Europe, while it is higher than in the US.
"As awareness of biodiversity as a term grows, more needs to be done to help consumers understand what it means and how the vegetables they eat have an impact on the environment," says Lubbers.
As noted on numerous other topics from Fairtrade to Sustainable Seafood, third party certification can play a role in raising consumer awareness and confidence. Last month, General Mills' US snack brand Epic launched its newest product with the Land to Market Ecological Outcome Verification (EOV) seal, a sustainability certification program administered by the Colorado-based NGO Savory Institute.
Rather than just proving biodiversity, the seal certifies that the beef in the Epic EOV Beef Barbacoa-inspired bar was raised using regenerative farming methods that improve soil health, biodiversity and ecosystem function. Because of the strong emphasis that regenerative agriculture places on biodiversity, the label can provide consumers with a high level of certainty about biodiversity, as would be possible to varying degrees for certification systems for sustainable agriculture elsewhere.
Additionally, there's a compelling reason why it would be less effective if biodiversity was the only criterion on which the seal depends, explains Kate Herbert, senior manager, Branding Experience at Epic. "As part of our missions on regenerative agriculture, the loss of biological diversity only accounts for a fraction of the overall picture," Herbert told Just-Food. "Regenerative agriculture works best when agriculture or ranching is viewed as an ecosystem, including, but not limited to, focusing on biodiversity loss alone."
Nature positive positioning
Biodiversity loss is a complex, multifactorial problem that mainstream consumers generally know less about than about issues such as carbon or plastic pollution. Indeed, since the word "biodiversity" is impenetrable, companies often replace it with "nature" as a much more reliable option.
This is reflected in the development of biodiversity-related reporting metrics with the creation of the Nature Financial Claims Task Force and Science-Based Goals for Nature initiative.
Associated British Foods UK grain brand Jordans recently launched a campaign that spanned online, print and social media (the ad can be found) Here), which is specifically committed to its commitment to protecting biodiversity, with the slogan "Created by nature, made by Jordans".
According to Tess Lomax, Brand Controller at Jordans, the commitment to nature and wildlife has been an integral part of positioning the brand for decades, rather than responding to current trends. However, she suggests that consumer interest in biodiversity has increased.
"Biodiversity has been a priority for Jordans since 1985 when we introduced our conservation-level farming practices, so this is more of our heartland than just a specific focus for this campaign," explains Lomax. "However, I think the urgency has increased lately and that consumers are more aware and interested than before."
Jordans announces the campaign to the trade press and says the marketing push "highlights" the brand's "biodiversity references". Whether the slogan and the print advertisement in particular make the issue of biodiversity loss clear to consumers is controversial.
Given their position at the epicenter of the biodiversity crisis, food companies should arguably be talking to consumers about the loss of biodiversity, but they need to do so if more of their consumers are asking. And as could be seen just a few years ago with the use of plastic, in today's connected world consumer interest can be aroused and disseminated at an unimaginably fast pace.