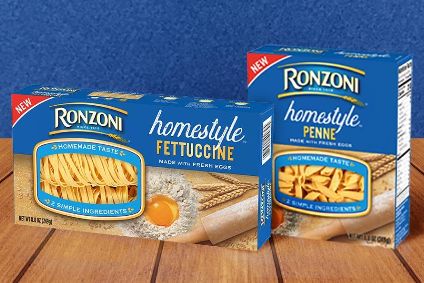 Ronzoni Pasta – Brand Set for New Ownership
US-based 8th Avenue Food & Provisions, a trading company majority-owned by Post Holdings, will acquire the Ronzoni pasta brand from Riviana Foods, a subsidiary of Ebro Foods in Spain.
St. Louis-based 8th Avenue will purchase the Ronzoni Dry Pasta brand and manufacturing facility in Winchester, Virginia for an undisclosed amount.
Ebro has been selling North American brands of pasta for the past six months.
Scott McNair, CEO of 8th Avenue, said, "With its trendy, diverse product offering, state-of-the-art facility and impressive customer base, Ronzoni has a strong foundation to build on its leading market presence. Together with the Ronzoni team, we look forward to Drive further growth and scalability by delivering innovative products to all of our loyal customers. "
8th Avenue makes private label grocery products including nut butters, dried fruits and nuts, granola and noodles, primarily for retail, hospitality and food ingredient customers. It was founded in 2018 through a combination of Post Holdings' private label businesses and is owned by Post Holdings and third parties.
Ebro said last month that it was considering outsourcing the Ronzoni brand after selling pasta products in the US and Canada in the past six months. The company "looked into the option" of selling its Ronzoni pasta brand, which the company said "has met with great interest from potential buyers."
In November, Ebro announced a deal to sell a number of US pasta brands, Prince, Creamette and Skinner, to local manufacturer TreeHouse Foods. A week earlier, Ebro had agreed to outsource its Catelli dried pasta business in Canada to its Italian colleague Barilla.
Last week, French newsper The echoes Ebro's France-based pasta business Panzani, Panzani, is reportedly on the radar of local counterpart Lustucru, who is considering teaming up with private equity firm CVC to bid on the assets.
However, Ebro refused to refer to the report, saying he failed to get Panzani on the block. "This problem was brought to market with the divestment of our North American dry noodle businesses," a spokesman said.