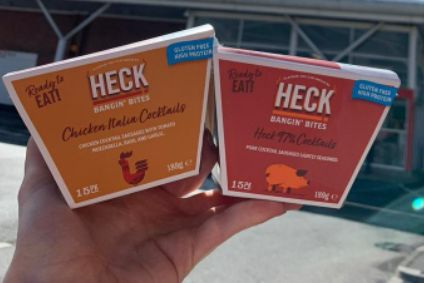 Heck's new bangin 'bites
Heck, the UK sausage maker, is set to spend £ 3.5 million (US $ 4.9 million) to expand its manufacturing facility.
The company, based in North Yorkshire, in the north of England, said the development of its Bedale facility will double its production capacity and allow it to move into other product areas such as cooked snacks.
In addition to the 40,000 m² expansion, Heck installed a vertical farm on site, which was built by the industry specialist Vertical Future and which supplies vegetables and herbs for its products.
The company, which was founded by the Keeble family in 2015, said the development will allow it to produce a million sausages a day to meet its goal of £ 100m in sales by 2025.
According to a Companies House filed in February, Heck Food Ltd achieved sales of GBP 26.1 million in the twelve months to July 31, 2020, an increase of 10.5% over the previous year. The company posted an operating profit of £ 518,030 compared to £ 514,516 the previous year. Income for the year was £ 564,152 compared to £ 640,401 a year earlier.
Heck will also create 20 new jobs, both in the factory and in non-productive roles.
Co-Founder Jamie Keeble said, "We are one of the last independent companies in the UK sausage industry and our great taste and practical approach have made us the number one premium brand.
"Our vegan and frozen range was a huge growth area in 2020 and we are now launching an entirely new line of cooked snacks for Boots, WH Smith and Tesco. This is a huge market opportunity, especially given the opening up of travel and leisure."
The launch revolves around Bangin 'Bites, Heck's first foray into the' Grab and Go 'market. These are mini-cooked versions of 97% sausages and Chicken Italia in portable pots.