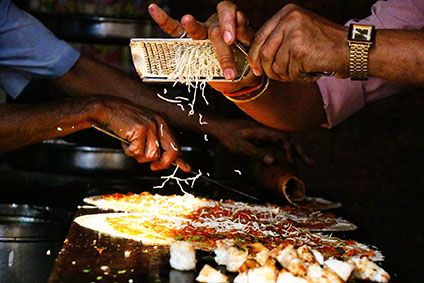 According to market observers, selling cheese as an ingredient is easier than as a stand-alone product
The Indian cheese market is a young business by international standards, but it is growing well. Raghavendra Verma shares how local factors could play into the hands of local producers.
If international dairy companies wanted to look for a national segment of the market that was growing strongly and offering solid sales growth, they could be drawn to the Indian cheese market – but local players are building sizable businesses and can enjoy certain benefits.
Retail sales are projected to hit $ 1.7 billion by 2024, according to India-based market researcher IMARC. From a base of $ 430 million in 2018, an annual growth of 25% is forecast.
This is still an immature market where sales are not diverse in terms of products and a significant proportion is determined by processed cheese and mozzarella options. Rupinder Singh Sodhi, managing director of the Indian milk giant Gujarat Cooperative Milk Marketing Federation (GCMMF) – the owner of the dairy brand Amul. Sodhi suggests that there is plenty of room for growth. "The total penetration of cheese in the Indian public is only around 5%, while in larger cities it can be 15-20%." Amul's share of packaged cheese retail sales in India is 40-45%, he says.
With a self-proclaimed share of 34%, Parag Milk Foods' listed Go Cheese brand for processed cheese in blocks, slices and spreads is the second largest market player in terms of market share. Akshali Shah, Senior Vice President of the company, underlines the strong sales that Parag is making with its Go Cheese Green Chutney Slices, a seasoned cheese mix popular for making sandwiches, as well as the Go Pizza Cheese, Mozzarella and Cheddar cheese pizza toppings . Parag not only sells these cheeses directly to consumers in rigid block packaging of 200 g, 400 g and 1 kg, but also delivers pizza cheese to Pizza Hut and Domino's, as well as cheese slices to McDonald's.
Other notable cheese brands in India's young but rapidly growing cheese market are Britannia, Milky Mist, and Verka.
The growth potential in India is supported by the fact that the country is not virgin territory for cheese. There is a tradition of adding cheese to traditional Indian foods such as dosa, uttam, and parathas. IMARC emphasizes that the increasing popularity of consuming cheese in international products such as pizza, burgers, sandwiches and tacos has been promoted. "Manufacturers are introducing a number of flavored cheese products, including pepper, garlic, red chilli flakes, and oregano cucumber," say the researchers.
One area where sales are still low is consuming cheese as a standalone product that is seen as unusual and an elite choice, explains Kuldeep Sharma, founder of Suruchi Consultants in New Delhi. "In Western cultures, people sometimes eat cheese for health reasons," he says. "Here we put butter, cheese and even mayonnaise in a pizza and eat it with fun and enjoyment."
One cultural factor is that cooked food is generally part of every meal in India. Therefore, it is easier to sell cheese as an ingredient in homemade dishes rather than as a stand-alone chilled product, argues Shah von Parag. One positive cultural facet for cheese producers, however, is the proportion of Indians who are vegetarians. Various surveys, including the last census, show that the percentage of vegetarians is 30%.
International players keeping an eye on the market need to remember that Indian cheese is usually made from mixed sources of milk, including buffalo and cows. Sharma estimates that the percentage of buffalo used in locally made cheese averages around 58%. Such an ingredient makeup gives Indian cheese a different taste, color, and texture than cheese from other countries, says Amuls Sodhi. He offers another difference that could be another potential hurdle for international products.
"We use vegetarian rennet while all over the world they use calf intestinal rennet."
Another smaller Indian company that offers cheese with a significant buffalo milk content is Vallombrosa Cheese. The Bengaluru-based company has been in operation for 60 years and makes ten types of cheese, including feta and parmesan-style products. The main hotels are a key market so far.
However "since [last year's Covid-19 related] Lockdown, we've also started selling direct to customers through home deliveries within a 50km radius [of our production unit]", Jins Alexander, Vallombrosa's managing director, tells Just-Food.
Vallombrosa runs a Whatsp group where the company shares new cheese dish recipes to help drive sales. "The market in Bangalore is very good and we get 20 to 25 calls from new customers every day," says Alexander.
The challenge of cost
Such an innovation is important because the profit margins in the Indian cheese sector can be small: typically the distribution, branding and advertising costs for cheese sales are around 30% of the selling price in India, explains Ghanshiam Singh Rajorhia, president of the Indian Dairy Association. "Because of this and the high maturing costs, [international] Cheese is much more expensive than paneer [Indian cottage cheese used in many local dishes]," he says.
Another problem is the cost of production. "We [India] are the largest milk producer, have the largest population of cattle, we have everything, but we are not efficient, "says Sharma." Productivity is low, there are no economies of scale and therefore our milk and other products are expensive. "
This is especially true for cheese, as the cost of production is higher when compared to other dairy products (like milk and ghee) and this is a significant headwind to market expansion, Sodhi said. "We are studying how the lower middle class can afford cheese in their daily diet, and that is only possible if we make it more affordable."
Sharma suggests that cheese has a barrier to entry as it requires a much larger investment than other dairy products. "It may cost $ 5 million to set up a curd and paneer dairy with a daily milk processing capacity of 300,000 liters, but a dairy of that capacity will cost no less than $ 28 million."
Various elements add to the cost of cheese production in India. "A slicer for a 500kg per hour line would cost about $ 4 million and get the fractions out of the milk [to control cheese texture] is always more expensive, "adds Sharma.
However, as sales increase, investments in cheese factories are likely to increase, says Sharma. The Indian government is helping too: in November, mozzarella was added to a list of seven foods where manufacturers can apply for central government grants to boost manufacturing investment from a budget of INR 109 billion ($ 1.48 billion) that will be deployed over the next five years. The support falls under the production-based incentive system for the food industry to "make Indian manufacturers globally competitive, attract investment … ensure efficiency, achieve economies of scale, increase exports," states a government communiqué published in November. The other foods in question are ready-to-cook / ready-to-eat products, processed fruits and vegetables, and seafood.
The answer was quick. In March, Amul announced an INR 2 billion investment plan to make mozzarella cheese from buffalo milk for export, although the details have not yet been released.
It may be a good time for domestic manufacturers to start building a local brand in India. The market share of imports was limited by high import duties of 30%, says Shah von Parag. For example, this has been a long-standing controversial issue in the trade negotiations between the European Union and India and this protection could be removed for concessions giving access to EU markets.
"Right now the Indian dairy industry needs protection," says Sharma. "But we won't be able to keep the market closed for long."