The Dominican Republic is open for tourism and Covid-19 safety protocols in Punta Cana are in effect for all travelers. Hotels are operating in lower occupancy, excursions have implemented hygiene protocols and the airports are measuring the temperatures of all arriving passengers. Those are just a few of the regulations to prevent the spread of Coronavirus in the Dominican Republic and to protect travelers during their vacation in Punta Cana. Furthermore, the government has implemented a tourism recovery plan, which underlines the importance of tourism for the Dominican Republic and proves, that the borders will remain open. There is even free Covid-19 insurance in Punta Cana issued by the Dominican government and some resorts are offering free PCR tests. But how is the situation of Covid-19 in Punta Cana? What has changed?
What can you expect when booking your holiday to Punta Cana in times of Coronavirus? This article will highlight some of the aspects of post-Covid-19 travel to the Dominican Republic with first-hand information from Punta Cana.
If you are looking for the best tours and activities you can do during the times of Coronavirus, you can check out the best Covid-19 friendly excursions in Punta Cana.
Completely UPDATED: February 2021
What to expect during your flight in times of Coronavirus?
When flying to the Dominican Republic during Covid-19, you can expect the safety guidelines most of the airlines have implemented. The main change compared to pre-Covid travel is the mandatory use of face-covering masks during the flight, but also catering has been restricted by most airlines. In-flight magazines have been removed and deep-cleaning protocols after every flight have been implemented – all to secure passenger's safety and to avoid getting infected with Coronavirus during the flight.
While all these measures don't sound too pealing, traveling in the end is much more relaxed than it seems to be. Thanks to the (usually) low number of bookings, you have enough space on the plane. As regulations and guidelines due to Covid-19 are changing frequently, please check with your preferred airline on their measures regarding Coronavirus.
Since Covid-19 hit our world, I have already flown a couple of times in and out of Punta Cana. All the flights were super smooth. I often had the whole row on my own. Furthermore, some airlines provided (among them United Airlines and Copa Airlines) an alcohol-soaked wet tissue to additionally disinfect your seat so that you can be extra sure to have a clean environment.
The biggest change when booking a flight to Punta Cana (and to all other destinations in the Dominican Republic and the world) compared to times before Coronavirus is a positive one. While airlines usually sold 100% non-refundable tickets with hefty change fees, most of the tickets nowadays – thanks to Covid-19 – are flexible and changeable as the airlines would like to stimulate bookings. This allows you to react to any new situations, it doesn't matter if they are Covid-19 related or not. However, please note that most airlines only allow 1 change and if you ask for a refund, they usually give you a travel credit for your next trip instead. Make sure to check the current regulations of the airlines (they change frequently as well) to take advantage of flexible cancellation guidelines when booking your flight to the Dominican Republic in times of Covid-19. It is also important to book your flight for your Punta Cana vacation right on the airline website if you'd like to benefit from the flexible booking conditions.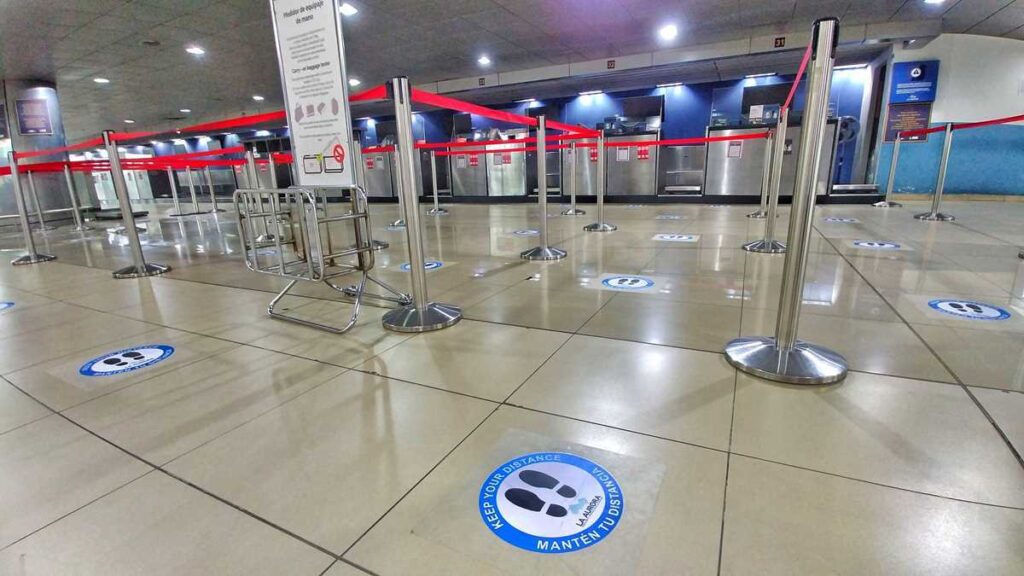 What to expect in the Dominican Republic upon arrival in times of Coronavirus (airport and transfers)?
Once you are on your way to paradise (the Dominican Republic), you can relax and sit back as you have managed the biggest challenge in these unprecedented times: getting started! Soon you are going to arrive at Punta Cana International Airport, where you pass a temperature screening as part of the entry requirements. Furthermore, you have to fill out a health declaration with different questions related to Coronavirus and your well-being. This questionnaire is available in English as well.
For your 2021 Punta Cana vacation, the entire immigration process for the Dominican Republic can be done online. Just visit the Dominican Republic Immigration Website linked here* and fill out the linked form to receive a so-called e-ticket. The online form is requesting most information you are usually filling out manually when entering a country. In the end, you will receive a QR-Code (= ticket), which you can show to the immigration officer when arriving in the Dominican Republic.
Starting from ril 1st, 2021, online registration is mandatory, per forms will no longer be accepted. It is advisable to do the registration before starting your Punta Cana vacation. However, you can also obtain the immigration e-ticket at the Punta Cana Airport using the airport WiFi.
For your Punta Cana vacation, no negative PCR-test is required to enter the Dominican Republic, which makes it easy for you to travel to Punta Cana. However, random Covid-19 tests (fast checks, usually with a breathalyzer) are performed upon arrival at Punta Cana International Airport and all other ports of entry into the Dominican Republic.
BOOK TRAVEL INSURANCE FOR PUNTA CANA WITH COVID-19 COVERAGE
incl. Covid-19 coverage
Those measures are part of the governmental plan the Dominican Republic has implemented to recover the sector of tourism from the aftermath of Covid-19, which also hit the Caribbean very hard.
See below for further information on this tourism recovery plan.
Once you have passed immigration and customs, you can proceed to your prebooked transfer, grab a taxi or start your journey on your own by taking public transport. Please check this comprehensive article on all the transfer options you have at Punta Cana International Airport (or Las Américas International Airport if arriving in Santo Domingo). Alternatively, you can also rent a car, which is a perfect alternative to explore the Dominican Republic the authentic and independent way.
TRAVEL COACHING
Safe money and time!
Do you need help planning a customized vacation in Punta Cana and the Dominican Republic? Is it difficult for you to decide what and where to book? Would you like to take advantage of someone with years of experience in the tourism industry (knowing all the travel hacks 😉 ) and living right in the place where you would like to spend your holiday?
That's what my personal travel coaching is for. I will design your tailor-made itinerary, tell you how to save money on your trip and send you the best insider tips and recommendations. All the information I send you are crafted with love and passion – and are coming with a money-back guarantee. Let me know how I can help you (check my packages here) and send me a request here!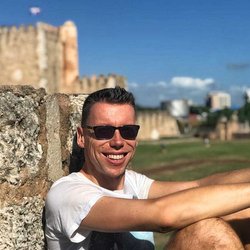 In case you have booked your transfer (get the best prices on your Punta Cana private airport transfer here* or reserve yourself a space in a shared shuttle* if you would like to lower the costs), you will be greeted by your representative. According to the Covid-19 guidelines in Punta Cana, hand sanitizer will be held available to disinfect your hands and you have to lift your luggage into the transfer vehicle on your own to prevent that others are touching your suitcases – at least that's how it was when I used an airport transfer after the start of Covid-19, maybe it's going to change in the future.
There are no Coronavirus restrictions in Punta Cana regarding which type of transfer you have to use like in other countries. You can choose freely which option you'd like to choose.
Furthermore, all transfer vehicles are only operating with limited cacity (around 50%) to ensure social distancing in times of Coronavirus.
As you can see, all of these measures in Punta Cana are complying with the Covid-19 guidelines, but they are not imposing any serious travel restrictions, meaning that you can enjoy your holiday in the Dominican Republic to the fullest.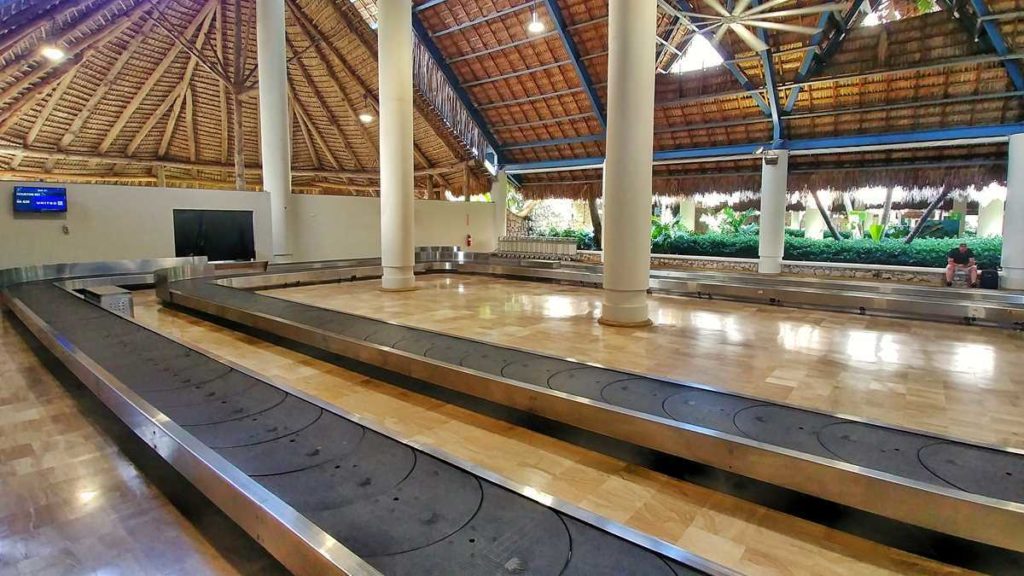 What to expect in the all-inclusive resorts during Coronavirus?
The all-inclusive resorts in the Dominican Republic are those "institutions" with the most Covid-19 measures and guidelines in effect, which is particularly due to the many different aspects of the holiday an all-inclusive resort is affecting: food, activities, pool, room, service, drinks … there is hardly anything which hasn't been put under the new coronavirus hygiene protocol in Punta Cana. This protocol was created by the tourism associations, the government and the industry leaders and guarantees the highest level of Coronavirus protection without imposing too many Covid-19 related restrictions.
The most important measures to protect the spread of Coronavirus in the hotels of Punta Cana and the Dominican Republic are:
Social distancing at all times
Wearing face masks in all public spaces (except restaurants, pools and at the beach)
Providing sufficient hand sanitizer
Guaranteeing sanitation methods in restaurants and buffets (or not offering buffets at all)
Deep-cleaning of rooms
New protocols for the interaction between guests and employers
Postponing activities where social distancing can't be guaranteed
Implementing a perless check-in where possible
Health protocols for guests and employers
Running hotels and all-inclusive resorts with a limited occupancy
And many more …
If you are interested in the full protocol of Covid-19 guidelines in Punta Cana and beyond, you can download it here*.
While these guidelines and Covid-19 restrictions might sound pretty general, I have visited a couple of all-inclusive resorts in the last weeks and months to check how these measures are implemented. While you can read my full reviews of Dreams Macao Beach Punta Cana, Grand Sirenis Resort Punta Cana and RIU Palace Punta Cana here, the following measures were some which called my immediate attention in terms of the new Covid-19 hygiene protocol in Punta Cana:
Upon arrival, your body temperature gets screened, your luggage disinfected and you shall sanitize your hands.
Check-in can be done completely perless in times of Coronavirus.
Check-in agents are separated by plexiglass from the guests.
All employers are wearing face masks to prevent the spread of Covid-19.
When ordering a drink, the waiters won't touch your glass (you either grab it from the tray, they pass it to you with a nkin or they are wearing sanitized gloves).
At the buffet, you won't serve yourself, so the food tongs won't get touched by multiple persons. You rather choose at the buffet what you want to eat and one of the service staff members will put it on your plate. Alternatively, for those resorts where the self-serving method is still in effect, you have to wear disposable gloves to avoid any contamination.
Tables get properly disinfected before and after use.
According to the Covid-19 hygiene protocol your room gets fully disinfected before your check-in.
Multi-touch items such as remote control, tablet or bathroom amenities get disinfected and will be placed in a sealed bag afterwards.
Pool and beach chairs are being moved away from each other to maintain social distancing.
As an additional Covid-19 measure, dining menus and resort information are available via QR codes only.
Frequent hand sanitization is encouraged when entering restaurants, bars, the lobby and other common areas.
In general, you still can enjoy life while being on vacation in an all-inclusive resort in Punta Cana. Especially when you want to relax in your hotel, times might never have been better than now, as everything is super quiet, the properties are not fully booked and party-activities have been postponed as social distancing is in effect. Even 8 months after the Dominican Republic has reopened for tourism, most hotel occupancies are still somewhere around 20%, especially during the week. Just if you are looking for a lot of social interaction, unforgettable beach parties and wild animation, times now are more difficult while Coronavirus is present.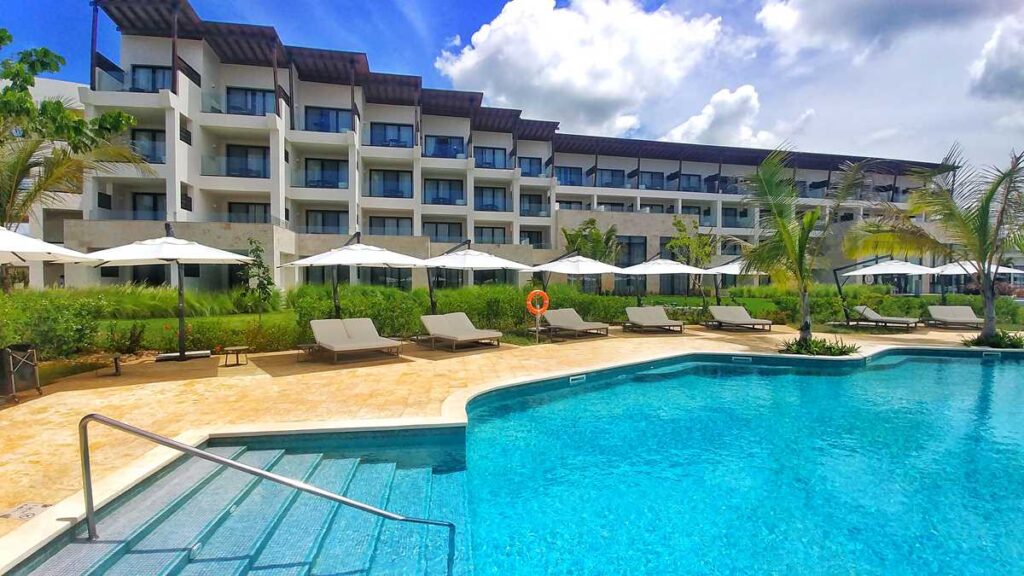 As of February 2021, most all-inclusive resorts in Punta Cana are open again, probably around 80%. Some of the reopened resorts are Barcelo Bavaro Beach, Be Live Collection Punta Cana, Breathless Punta Cana, Catalonia Royal Bavaro, Dreams Macao Beach, Excellence El Carmen, Grand Sirenis Resort Punta Cana, Hard Rock Punta Cana, Iberostar Grand, Lopesan Costa Bavaro, Majestic Mirage, Melia Caribe Beach, Nickelodeon Punta Cana, RIU Palace Punta Cana, Royalton Punta Cana, Secrets C Cana and Secrets Royal Beach.
Some of the resorts still closed (as of February 2021) are CHIC by Royalton, Grand Bahía Principe Turquesa, Ocean El Faro and Vista Sol Punta Cana.
What to expect during your excursions in Punta Cana during times of Coronavirus?
Excursions are up and running in Punta Cana, even some tour operators have paused their operations for a while, as booking numbers are still very low. Unless other countries after the outbreak of Coronavirus, you are also allowed to venture out on your own in the Dominican Republic. Here on Punta Cana Travel Blog, you find a lot of ideas on how to explore the authentic Dominican Republic. Check out this multi-day itinerary from Punta Cana, have a look at the best day-trips from Punta Cana or check out one of Punta Canas' waterfalls.
You can also have a look at the best Covid-19 friendly excursions in Punta Cana and check out the best things to do in Punta Cana.
– Most Popular Posts on Punta Cana Travel Blog –
However, also the excursion operators follow a strict hygiene protocol and have implemented strict Covid-19 measures to prevent the spread of Coronavirus in Punta Cana. Some of those Coronavirus guidelines are:
Mandatory face coverings during transfers
The guide has to perform a medical check (of his own) before each tour
Vehicles have to be deep-cleaned before and after every tour
Vehicles can only be occupied with 50% of its maximum cacity
Temperature checks for all excursion guests before the tour starts
Public toilets have to be available and sanitized every 2 hours
Lunch can only be served in disposable plates and cutlery
While these Covid-19 restrictions might be quite hard for some excursion tour operators in Punta Cana due to the limited cacity, there are not too many changes for you as a visitor. You can be excited to see the Dominican Republic in all its beauty – probably just with fewer tourists in your tour group, which is an additional plus.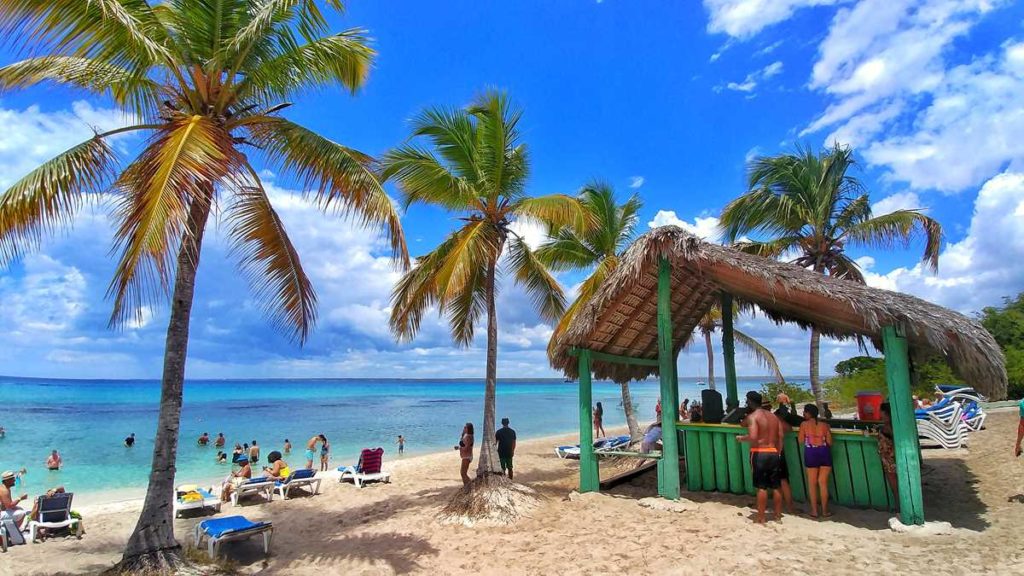 Since the pandemic started, I have taken part at a couple of those activities, including buggy tours, ziplining, catamaran tours and many more. It's absolutely easy and there are hardly any travel restrictions for Punta Cana excursions, so you can look forward to some great adventures and unforgettable fun.
How to get travel insurance with Covid-19 coverage for your Punta Cana holiday?
When you have set everything up for your all-inclusive vacation in the Dominican Republic, it is also time to think about travel insurance – because traveling without would be highly insane amidst a pandemic. Travel insurance for foreign countries always is important as it protects you from the high medical costs in clinics and hospitals when having an accident or getting sick. This is important for Punta Cana as well. Even the general price level in Punta Cana is reasonable, health care is quite expensive, especially when consulting English-speaking doctors or using a hospital with an international standard.
During the times of Coronavirus, travel insurance is even more important as you still can catch the virus in the Dominican Republic, despite all Covid-19 regulations and measures according to the hygienic protocol. Luckily, there are travel insurances with Covid-19 coverage which fully protects you even if you get the virus during your holiday.
I am protected with Safety Wing*, an easy and straight-forward international insurance covering me in all countries in the world (except Iran, North Korea, Cuba), including the Dominican Republic. Safety Wing also covers any medical treatment of Covid-19 as long as you have not contracted the Coronavirus before your insurance policy started. In other words, if you travel to Punta Cana and the Dominican Republic and get sick during your holiday, Safety Wing covers you (please read their user-friendly terms & conditions for any exclusions*) – it doesn't matter if it is Covid-19 related or any other health issue. Even Covid-19 tests for Coronavirus are included if medically necessary.
While Safety Wing initially was a digital nomad company offering long-term health insurance, you can also take out their insurance for short vacations of just a couple of days. Please note that they have a deductible of 250 USD for most medical cases and liability is cped at a certain (reasonable) amount, but this comes with the big advantage that their insurance policies start for as low as 1.20 USD a day (!). Health and travel insurance for a 1-week trip to the Dominican Republic incl. Covid-19 coverage only costs you 12 USD for the entire week and a month is just 40 USD. This even includes travel insurance, so in case of flight disruptions, natural disasters, travel delay or lost checked luggage, you are covered as well – without deductible! Safety Wing covers nationals from all over the world, including US and European citizens.
SafetyWing is probably not recommendable for every type of traveler, but the low prices and strong coverage are absolutely worth a look, taking into consideration that it is health, travel AND Covid-19 insurance in one package. I can recommend it from my experience, so have a look at the services and prices!
If Safety Wing is nothing for you, you can have a look at Visitors Coverage. Visitors Coverage is a price comparison tool* for international travel and medical insurances, doesn't matter where you are from or where you are traveling to. More or less half of the insurance offers at Visitors Coverage include Covid-19 coverage when traveling, so make sure to activate this filter when browsing through the results. Prices are super low as well (10 USD for a 1-week trip to Punta Cana) and the deductible is as low as 50 USD, which is important if you don't want to pay much in case of medical treatment. Visitors Coverage offers different insurance companies and packages, some of them for travel insurance (travel delay, trip cancellation, etc.) and some of them for health insurance (medical treatment, hospitalization, etc.). You can use the tool below to check the best prices and services for your trip.
Free health insurance provided by the government of the Dominican Republic
A further option is to rely on the free health insurance the Dominican Republic government is giving to all travelers. Free insurance? Yes, FREE!
As an incentive to further strengthen the recovery of tourism, the government of the Dominican Republic has announced back in October 2020 to issue free insurance to all travelers entering the country on commercial flights to cover medical expenses, incl. Covid-19. This is not only Covid-19 insurance as it covers all medical treatment during your stay as long as it is not due to pre-existing conditions. The free health insurance of the Dominican government covers costs up to 10.000 USD (compared to 250.000 USD with SafetyWing*). It not only covers medical expenses incl those due to Covid-19 but also postponing your flights and/or extended hotel accommodation in case you require treatment and can't make your flight.
In detail, the free health and Covid-19 insurance for travelers to Punta Cana and the Dominican Republic covers the following aspects:
Total insurance coverage: 10.000 USD
Non-pre-existing medical emergency assistance incl. COVID-19 incl. attention by specialists: 10.000 USD
Medical transfers: up to 500 USD
Health repatriation: up to 2.000 USD
Air ticket for a relative if necessary
Fare difference or change fee for a return flight in case of a medical emergency
Repatriation or funeral transfers
Legal Assistance and Judicial Bond in case of an accident
Limitations and special exclusions by age: up to 85 years
Hotel expenses for a forced extended stay due to hospitalization: up to 75 USD per night
Valid in the entire Dominican Republic
Valid from hotel check-in to check-out
You can find the full insurance policy here*.
No responsibility is taken for the correctness of this information. Punta Cana Travel Blog can't be held responsible for any changes or incorrect information. All details of the insurances are subject to change without prior notice.
So far, the insurance from the Dominican government for your Punta Cana vacation during Covid-19 seems to work fine. I have heard a few reports that it works, however, there isn't a large base of experiences yet. Therefore, you have to decide on your own if government-issued insurance with a coverage of 10.000 USD is enough for you or if you prefer to have higher coverage with an experienced insurance provider.
How is the beach in Punta Cana during Covid-19?
While the beach itself isn't directly affected by any Covid-19 restrictions in the Dominican Republic, it is very interesting to see how the beach has changed in recent months, since Coronavirus hit our world and stopped all travel immediately.
While most of the beautiful beaches in Punta Cana were highly frequented before Covid-19, with all the all-inclusive resorts open, many people walking along the beach and beach bars frequented with hpy travelers, everything is (obviously) super quite now. While this is not particularly worth mentioning, it is impressive to see how pristine and virgin the beach turned in these few months without visitors. If you ever wanted to see how the beach of Punta Cana looked 30-40 years ago before mass tourism started in the area, you have a chance to get this picture now. Natural flotsam is piling up at the beach, palm trees are swaying in the wind without any people around for miles and some fishing boats seem to not have moved for ages. It is a totally different atmosphere, especially when you leave your accommodation and walk along the beach passing some of the other all-inclusive resorts of Punta Cana which are still closed.
art from that, you can enjoy the marvelous beaches of Punta Cana as much as you want, especially with fewer tourists than normal. If you'd like to know more about the best beaches in Punta Cana, check out this article.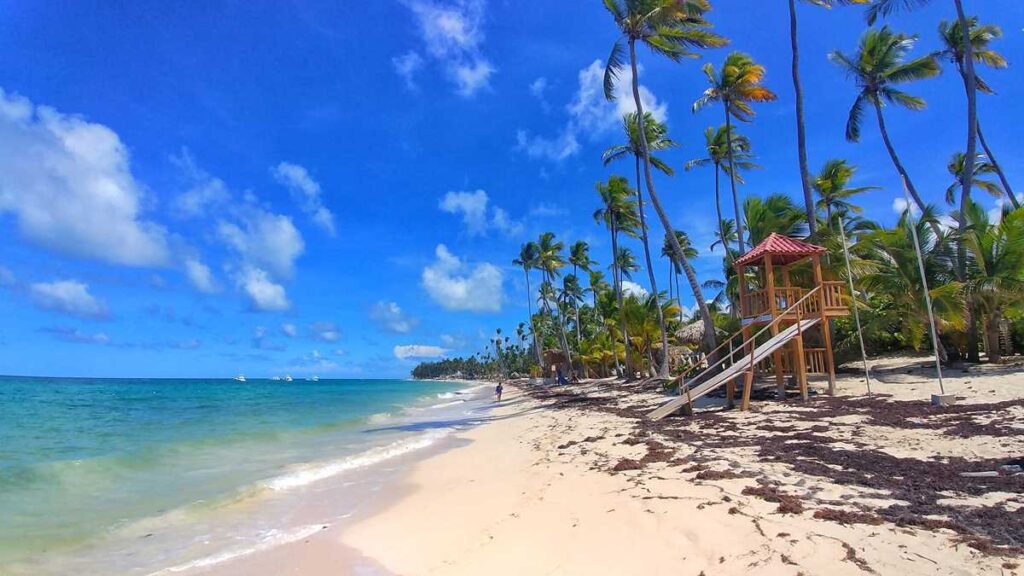 Hospital situation in Punta Cana in times of Coronavirus
When traveling in times of Coronavirus, it is also important to check the available hospitals and medical infrastructure in your holiday destination, just in case you – despite all the measures – get infected or have any other accident. Luckily, Punta Cana has a particularly good supply of international hospitals, private clinics and English-speaking doctors, so that you don't have to worry about medical treatment, as long as you are properly insured. Also, thanks to the low population density of the area, emergency beds and ventilators were (and are) always available even during peak times of Covid-19 in Punta Cana and it is not expected that this is going to change in the future.
There are several clinics and hospitals in Punta Cana. All of them have English-speaking staff and accept different kinds of insurances. In case you need to see a doctor, it doesn't matter if it's Covid-19 related or for another reason, make sure to call before to check if the hospital does offer the treatment you are looking for.
The biggest clinics and hospital in Punta Cana are the following:
International Medical Group Punta Cana (IMG Punta Cana)
Centro Médico Punta Cana
International Medical Center TCMS
Hospiten Bavaro
The biggest and most modern hospital in Punta Cana is the IMG Punta Cana from the International Medical Group. You can find all kinds of clinics and departments here, with (partly) bi-lingual doctors, the latest technology and the cleanest environment. Without having tried all the hospitals, I would say that the International Medical Group has the best hospital in Punta Cana.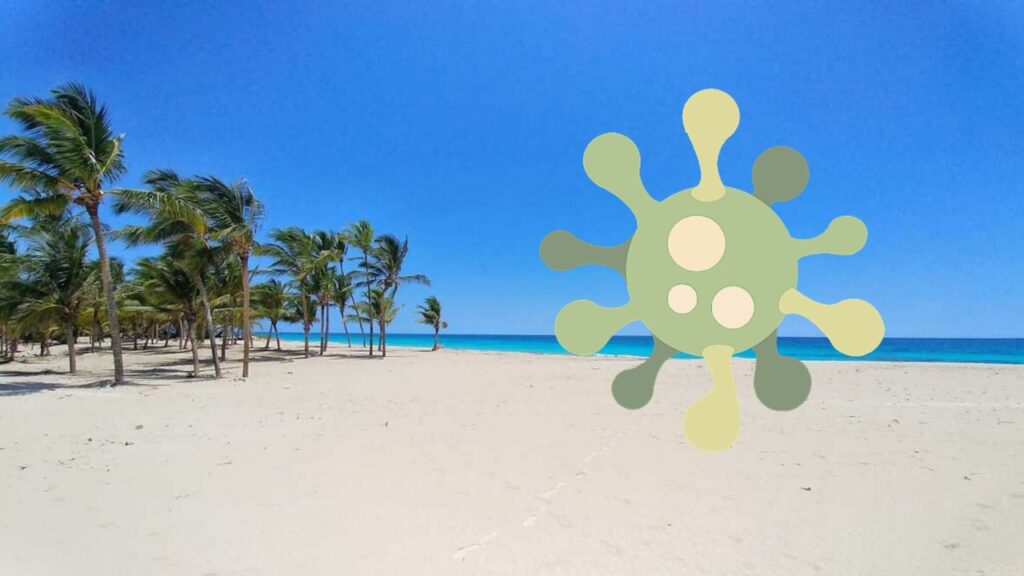 How to get a Covid test in Punta Cana (PCR test/Antigen)?
It is also not a problem to get a PCR test in Punta Cana if you would like to get checked for Covid-19. Even when most countries are requesting a negative Covid test to return to your home country, there are sufficient testing cacities, also thanks to the Dominican government and tourism recovery plan. But how to get a Covid-19 test in Punta Cama. it doesn't matter if an Antigen test or a PCR test?
First of all, it depends where you are staying: do you travel to Punta Cana to stay in an all-inclusive resort or do you want to spend your vacation in an Airbnb (check out this list, there are so many spectacular Airbnb in Punta Cana)?
If you are staying in an all-inclusive resort in Punta Cana, you should check with your travel agent or your concierge if the hotel is offering free Covid and PCR tests during your stay. Most all-inclusive resorts do offer Covid-testing right at the premises and thanks to the free health coverage plan, Antigen tests are for free for tourists staying in a hotel. Just a small administration fee has to be paid, even some hotels are absorbing this fee. Therefore, you don't have to worry about getting your Covid test on time before returning to your country.
If you are staying at an Airbnb in Punta Cana or a guesthouse, you don't have to worry either as there are plenty of testing facilities in Punta Cana. Even you are not entitled to a free test, you simply can book an pointment (usually online) and get your Antigen or PCR-test done.
The most recommendable testing facilities are the following:
Amadita Laboratorio
Centró Medico Punta Cana
Hospiten Bavaro
IMG Punta Cana
Laboratorio Referencia
Type of test
1) Antigen test
2) PCR test
3) Respiratory SARS COV 2
1) Antigen test
2) PCR test
3) Express PCR test
1) Antigen test
2) Express PCR test
1) Antigen test
2) PCR test
3) Express PCR test
1) Antigen test
2) PCR test
3) Express PCR test
Results in
1) 2-4 hours
2) 48-72 hours
3) 4-8 hours
1) 2-4 hours
2) 48 hours
3) 24 hours
1) 20 minutes
2) 24 hours
1) 1-2 hours
2) 48 hours
3) 24 hours
1) 3 hours
2) 48 hours
3) 24 hours
Price
1) 2000 DOP
2) 4300 DOP
3) 12500 DOP
1) 2000 DOP
2) 4300 DOP
3) 5000 DOP
1) 35 USD
2) 125 USD
1) 1900 DOP
2) 5300 DOP
3) on request
1) 1750 DOP
2) 4300 DOP
3) 5000 DOP
Contact
(phone/Whatsp)
+1(809) 682-5414
+ 1 (809) -552-1506
+1 (809) 686-1414
+1 (809) 686 1414
+1(809)221-5545
Test at hotel
yes, at some hotels
yes, at some hotels
yes, at some hotels
on request
on request
Notes
Amadita p available as well
No responsibility is taken for the correctness of this information. Punta Cana Travel Blog can't be held responsible for any changes or incorrect information. All details of the insurances are subject to change without prior notice.
In case you don't get tested before your flight, you simply forget it or if your test result arrives too late, there are also testing facilities at Punta Cana Airport and Santo Domingo Airport. However, this shall only be considered as an emergency solution, it is much less hassle to get tested before. If you have to get tested right at the airport, plan between 2 and 4 additional hours for it. Those testing facilities at the airport are only open during daytime hours.
Situation and regulations regarding Covid-19 in the Dominican Republic
While all the above is regarding tourism, the safety guidelines during your Punta Cana holiday and any Coronavirus restrictions imposed on certain activities, it is also important to look left and right at what's hpening in the Dominican Republic in terms of Covid-19.
While Latin America, in general, has a harder time preventing the spread of Covid-19 due to big families, limited housing space and a large informal economy, the Dominican Republic is doing ok so far compared to other Latin American countries. Images from dead people on the street, people queuing up with their gas bottles to buy oxygen for their infected loved ones or week-long 24-hour lockdowns, fortunately, have spared the Dominican Republic. The number of new Coronavirus cases is also on a moderate level for months now (except a spike around December/January which the country, fortunately, has been able to stop again) which consolidates hope that the country is on a good way to the new normal.
Furthermore, the Dominican Republic is one of the countries with very stable measures to protect the spread of Coronavirus. While other governments are jumping forth and back with their travel restrictions, the Dominican government is keeping its path to fight Covid-19 in Punta Cana and the entire country.
Despite the way of opening up for tourism, there are still some restrictions in effect due to Covid-19. One of them is the daily curfew between 7 pm and 5 am (weekends starting from 5 pm) to prevent big parties and big agglomerations at night when the Dominicans love to mingle and drink their ice-cold Presidente beer. While it sounds weird to plan a holiday in a country where a curfew is in effect, it won't affect you too much, especially as there is a 3-hour grace period, which means you only have to be home at 10pm on weekdays and on 8pm on weekends.
If you stay in an all-inclusive resort in Punta Cana, you won't notice anything from the curfew and even if you travel around on your own by rental car, you should usually reach your hotel before dark, even if there is no curfew. I have done a couple of road-trips through the country with the curfew in effect and while it sometimes needs some adjustments on the travel plans, you won't be restricted too much, as you still can enjoy all the beauties and hidden gems of the Dominican Republic.
While a few attractions still might be closed due to the lack of visitors or the possibility to ensure social distancing, the majority of all tours and activities in Punta Cana is open and running. Check out this article about the best excursions in Punta Cana during Covid-19 to find out more.
A further Covid-19 measure in Punta Cana is the mandatory use of face coverings in all public spaces, including public transport. This regulation is valid until further notice
Besides this, some tourist attractions are still closed, especially those where it is difficult to implement hygiene protocols or social distancing. While this might change daily, it's best to inquire directly with any attraction you are interested in visiting when traveling to the Dominican Republic. Most excursions from Punta Cana are not affected by these temporary closures, but a face covering is still mandatory.
Governmental program in the Dominican Republic in the response of Covid-19
As tourism is an important industry in the Dominican Republic, the government has declared its recovery after the worldwide Coronavirus lockdown as one of the main targets when restarting the economy. To achieve this, the new ruling party – just governing since July 2020 – has implemented a plan which includes several measures to help both, travelers and suppliers.
One of the most important measures is that all travelers to Punta Cana and the Dominican Republic are protected by a Covid-19 health insurance issued by the Dominican government, as explained above. In case you get infected with the Coronavirus, the government will cover for treatment as well as for necessary itinerary and flight changes, if plicable.
Furthermore, labor regulations and a sanitary bubble for the employers will be implemented to make sure that all hotel and excursion staff will have the least risk possible to be infected and to infect other travelers. Last but not least, entry requirements in the Dominican Republic do not enforce bringing a (negative) PCR test, but you might get tested randomly when arriving into the Dominican Republic.
Further entry restrictions are not in effect, all countries can enter the Dominican Republic, however, visa regulations might ply.
Get your free e-book now – "15 amazing things-to-do for free in Punta Cana"!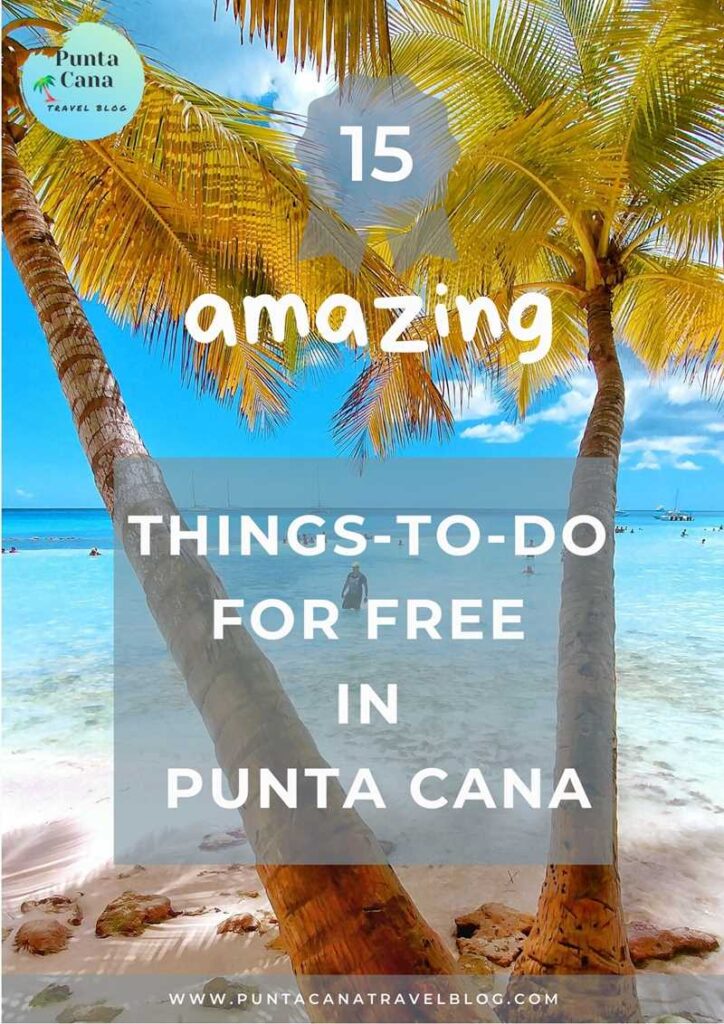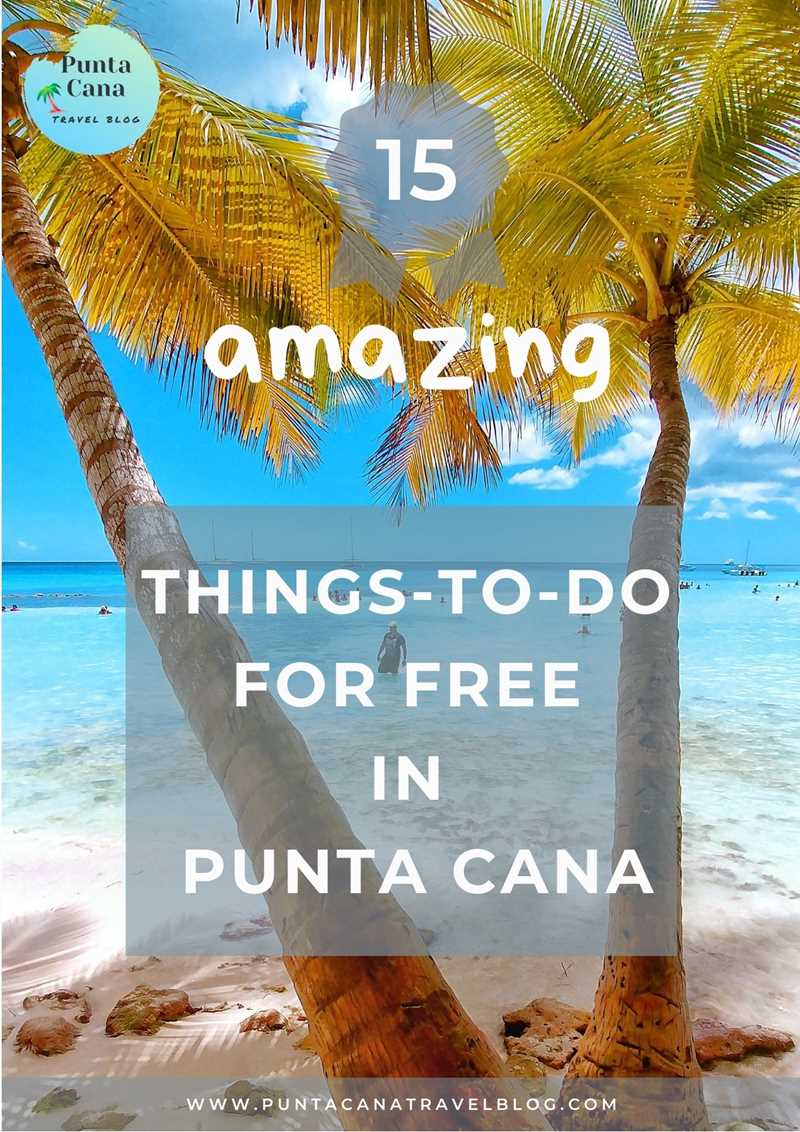 With all these guidelines and regulations, the Dominican Republic is open for everyone and ready to receive you. Are you ready for your vacation in the Caribbean? If so, check out the articles about the best day-trips in Punta Cana, 26 exciting things to do in Bavaro and beyond and don't forget to visit some of the highlights of the Dominican Republic, such as Isla Saona, Santo Domingo and Los Haitises. You can also have a look at the best excursions in Punta Cana to do during the times of Coronavirus.
Frequently Asked questions (FAQ) about Covid-19 in Punta Cana