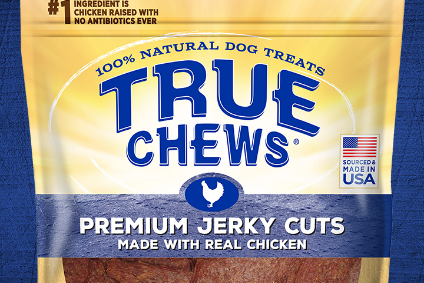 Deal also includes a facility in Iowa
Tyson Foods is selling its Nudges, True Chews and Top Chews-branded pet food business to another US food heavyweight, including a manufacturing facility in Iowa.
The agreement, which is subject to regulatory review, is expected to close by the end of the fiscal year, Arkansas-based Tyson said in a statement today (May 14).
Tyson added that once the contract is signed, its Independence, Iowa pet treat factory will supply General Mills with meat ingredients, while 300 on-site employees will move to the new owners.
General Mills, the owner of the Blue Buffalo pet food brand, described the acquisition as "very complementary to our existing business".
Tyson entered the pet food category in 2010 with the introduction of True Chews dog treats, followed by the Nudges and Top Chews brands for the next two consecutive years. The company had sales of more than 240 million US dollars in the fiscal year ended March 3, said the company, which is listed in New York.
"We pride ourselves on the tremendous success of this business and the diligent work of our team to meet the growing demand for high quality pet treats," said Noelle O'Mara, group president, ready-made meals at Tyson. "We believe the time has come to transform these great brands into an established pet food business by adding to their existing portfolio."
General Mills' pet food division had sales of $ 1.7 billion on group sales of $ 17.6 billion last year. The company bought Blue Buffalo when it acquired Blue Buffalo Pet Products for $ 8 billion in 2018.
"Pet food is a high-growth category that is being driven by the humanization of pets. That trend only picked up during the pandemic," said Bethany Quam, president of General Mills' pet food business. "By adding these trusted pet treatment products to our portfolio, we are strengthening our position in this attractive category. This acquisition greatly complements our existing business and combines Blue's leading position in natural pet food with nudges, top chews and True Chews We appreciate the opportunity to give pet parents more options to feed and treat their pets like family members. "