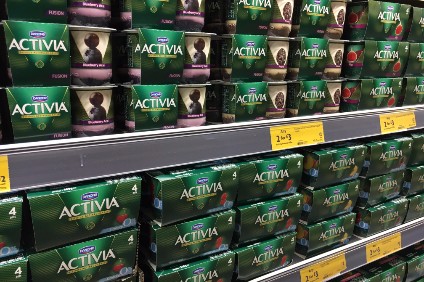 Danone – future direction for discussion
After Emmanuel Faber's departure from Danone, Andy Coyne ponders what priorities could apply to those who want to take the helm of the French food and beverage giant.
Today's news (March 15) that Emmanuel Faber will leave Danone could be interpreted as a victory for those investors who focus solely on shareholder returns, not on making the company a good corporate citizen.
During Faber's nearly seven-year tenure as CEO of the French giant (which included three years when he was also chairman of the company), the owner of the Alpro and Activia brands pioneered Big Food's efforts to do business more sustainably, whereby Corporate responsibility is central to the strategy and a wider range of stakeholders is taken into account.
Over the past few months, activist investors – including Artisan Partners in the US and Bluebell Cital Partners in the UK – have sought change in a company they believe is underperforming and have called for an end to one person's role as CEO and Chairman of Danone for the sale of non-core assets.
Faber's announcement in November of a new "local-first" strategy at Danone to drive relevant innovation in individual countries and improve financial metrics, as well as efforts to reduce overhead costs did not impress shareholders, and continued pressure led Faber to resign as CEO two weeks ago. However, his suggestion to remain in a new role as non-executive chairman did not calm the Artisan and Bluebell, who later asked Faber to leave Danone entirely. This morning, Danone announced that Faber would be heading for an exit after more than two decades in the business.
Some may say that Faber's exit is a win for those shareholders who consider profitability and ROI as the be-all and end-all when it comes to seeing a company's success. According to this argument, a focus on sustainability is presumably acceptable as long as it does not divert the focus from the main task of creating value for shareholders.
But perhaps this argument of sustainability and profitability is too simplistic a way of seeing what has evolved at Danone and of assessing how the company's future strategy under the new chairman Gilles Schnepp and the one who made the vacant CEO Role fills, will probably look.
While the search for a new CEO was started taking into account internal and external candidates, the managing director Schnepp, who was supported by the activist investors, has taken on the role of chairman. Véronique Penchienati-Bosetta, General Manager of Danone's international operations, will temporarily lead Danone, with Shane Grant, General Manager of its North American operations, serving as her temporary deputy.
Anyone named permanent CEO of Danone is expected to oversee a strategy that will perform better. The company's full-year 2020 results, released on February 22, showed that revenue was down 6.6% year over year to EUR 23.62 billion ($ 28.62 billion), and those made the same day for 2021 Growth forecasts did not calm the critics.
Bruno Monteyne, senior analyst for Danone at US investment bank AllianceBernstein, said the first priority for Danone's CEO should be to invest in brands and innovation.
"The new CEO can now independently assess the issues at hand," he said.
However, Monteyne cautioned that changes will be costly and time-consuming, and there is no guarantee that they will be successful.
"It will take some time to have a new CEO – in the third quarter at the earliest – and to develop a new strategy. [which will be] In the first quarter of 2022 at the earliest, "he argued." The processing time takes at least three more years. Anyone who wants to invest in a value creation story at Danone can patiently wait a little longer on the sidelines. "
Danone's ESG strategy
But Monteyne, who claims that Danone had "years of underinvestment in brands, innovation and capability," told Just-Food that he did not see the company's sustainability efforts being abandoned in favor of laser focusing on profits.
"Being a responsible citizen is part of Danone's DNA. It's valuable and important. Being a good citizen doesn't mean having a bad strategy. I don't expect any changes here," he said.
"Dissatisfaction with Faber increased over time. The activists pushed open an open door."
Monteyne sees the discontent among investors in particular as the growth strategy pursued under Faber's leadership. "Dissatisfaction with Mr Faber was very widespread and increased over time. I think the activists pushed an open door."
Jon Cox, an analyst at the finance house Kepler Cheuvreux, agrees. "I think it is possible to be a good corporate citizen and have strong economic performance. I don't think the goals are contradicting each other, especially today when consumers want to buy brands that are seen as part of the solution rather than the problem become.
"Overall, the problem for me has been more of a lack of economic execution than problems of social goals. Execution will be critical to the new CEO."
However, Martin Deboo, consumer goods analyst at Jefferies, disagrees that a new strategy will leave the company's sustainability agenda untouched.
He said, "I think it's going to change. Danone is the tough case of 'doing good by doing good'. Too much time in terms of communication has been spent on ESG [environmental, social and governance]. There aren't enough pure ESG investors to make this happen. And even ESG investors look at financial performance. "
Deboo understands what a new CEO should be focusing on. "In terms of order priorities, the new person has to develop the dairy and equipment turnaround strategy. That is the core business, and that has to be task one with everything else subject to it," he said.
After that, Deboo suggests that Danone must consider what the company calls its "local first" strategy.
Danone announced in November that in addition to plans to cut 2,000 jobs, it would set up a local-first organization, with Faber insisting that the group would have to "reinvent itself" after the coronavirus pandemic.
"The signs are that this will stay in place. That could limit the person who comes in," Deboo said. "Danone is aiming for € 1 billion in savings. It's pretty serious things. I'm not sure how far they are. Could it be stopped? Should it be? I support it. I think things should be local run. You just have to. " check out Nestlé for that. "
Could further divestments be in sight?
Deboo also suggested that Danone "get in on sales and clean up the portfolio". On March 1, Danone announced that it had taken a step to sell its stake in China Mengniu Dairy Co., a dairy company in China. An agreement was reached with COFCO Dairy Investments to convert the indirect stake of 9.8% in Mengniu into a direct step.
Artisan previously suggested dumping the Evian owner's Asian Mizone water unit as well.
What is clear is that there will be a time of uncertainty. An event in the capital markets planned for March 25th has been postponed, although Danone's general meeting to be held in Ril is still planned.
Deboo wonders if Danone might also make adjustments to its financial targets, particularly a margin above 15% by 2022.
"A new person could also reset the margins. It's a question of whether they are sustainable," he said.
But what about the activist investors? While Danone's board of directors ultimately made the decision about Faber, Artisan and Bluebell played no small part in what went from bad to worse.
They suggest it was the way the company was run, rather than being overly focused on green issues, which was their main complaint.
In a statement from the news agency Bluebell said: "Of course the 'job' starts now with the board of directors as it indicates a first class CEO. We are confident that under Mr. Schnepp's leadership, a profitable growth path will be restored at Danone, which will continue to be in focus." on sustainability. "
That last point echoed a recent comment made to the French media by Jan Bennink, the former Danone director who advises Artisan, when he said the U.S. fund does not question Danone's environmental and social goals – most recently the Owning Cow & Gate baby food is part of becoming an "Entreprise à Mission" – but just feeling like the group is being poorly managed.
In his statement today following the announcement of Faber's departure, Artisan – Danone's third largest investor with a 3% stake in the business – said simply: "We applaud the actions of Danone's board of directors. The focus on new leadership and better corporate governance will do the trick . " Strengthen the company for the benefit of all involved. "
just-food asked Artisan and Bluebell for further comments on Danone's future strategy.
One last thought. Some food company executives may be aware that the success of Artisan and Bluebell in calling for change at Danone makes it more likely that we will see an increase in that activity elsewhere.
Kepler Cheuvreux's Cox said: "Surely the news will bolster support for shareholder activism in France and elsewhere, even if it was ultimately still a decision of the Board of Directors. If the Board did not want the change, it would not have tightened."
Jefferies' Deboo added, "There will always be activism when companies are underperforming. The reason we got to the crisis point is because Danone has underperformed since the financial crisis."