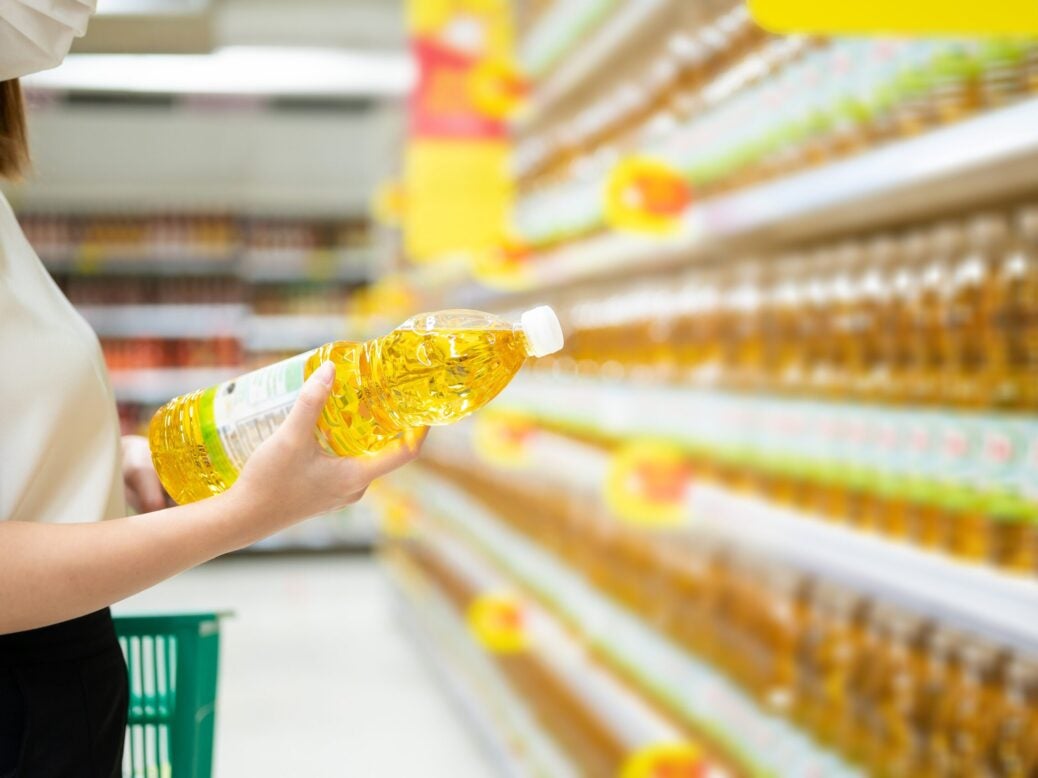 Global food commodity prices reached unprecedented highs in March led by a surge in the cost of vegetable oils and cereals as the Ukraine-Russia crisis disrupts supply.
The UN's Food and Agriculture Organization, which compiles the FAO Food Price Index tracking a basket of commonly-traded food commodities, said today (8 ril) the ongoing conflict had sent "shocks through markets for stle grains and vegetable oils".
Its headline measure of food commodity prices had, in February, already reached levels not seen since the index began in 1990 after Vladimir Putin invaded Ukraine on 24 February. Russia and Ukraine are major wheat exporters, accounting for around 30% of global supply in 2020. Ukraine is also a key supplier of maize and the world's top exporter of sunflower oil ahead of Russia.
The FAO's Food Price Index averaged 159.3 points last month, up 12.6% from February and an increase of 33.6% from March 2021.
A sub-gauge for vegetable oils rose 23.2% to a record 248.6 points from February and was 56% higher than a year earlier, driven by sunflower seeds.
"Palm, soy and reseed oil prices also rose markedly as a result of the higher sunflower seed oil prices and the rising crude oil prices, with soy oil prices further underpinned by concerns over reduced exports by South America," the FAO explained.
Early in April, Russia announced plans to restrict exports of sunflower oil and imposed a ban on the shipment of sunflower seeds to relieve pressure on domestic prices. Russia's Ministry of Agriculture also imposed an export quota on sunflower meal – a by-product from crushing seeds for oil – building on restrictions on the export of grain and sugar put in place in March.
Cereal prices climbed 17% in March from a month earlier to an unprecedented high and were up 37% from the same month last year, "driven by large rises in wheat and all coarse grain prices largely as a result of the war in Ukraine", the FAO said. World wheat prices rose 19.7% and maize was up 19.1% from the previous month to reach a record, along with new highs for barley and sorghum.
"The global cereal stocks-to-use ratio is forecast at 29.7% in 2021/22, only marginally below the previous year and 'still indicating a relatively comfortable supply level'", according to an FAO report.
Higher oil prices helped drive up the cost of sugar, with the FAO's sub-gauge rising 6.7% from February and 20% higher than in March last year.
Meat prices increased 4.8% month-on-month, again to an all-time high, "led by surging pig meat prices related to a shortfall of slaughter pigs in Western Europe. International poultry prices also firmed in step with reduced supplies from leading exporting countries following Avian Flu outbreaks", the FAO said. Prices were 19% higher than a year earlier.
Dairy climbed 2.6% on the month and 23.6% from March 2021 "as quotations for butter and milk powders rose steeply amid a surge in import demand for near and long-term deliveries, especially from Asian markets."
For more on Just Food's coverage of how the conflict is affecting the food industry, please visit our dedicated microsite.
Just Food parent GlobalData is providing an ongoing analysis of the war's impact across business sectors.